Today's dental patients benefit from numerous advances in technology that improve treatment outcomes and patient experiences. Dental implants, which are artificial tooth roots made from biocompatible metals, surely represent this type of a significant step forward in treatments for tooth loss.
Structure of Dental Implants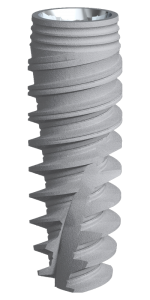 Dental implants typically are made from titanium, a metal that is capable of fusing with bone. The oral surgeon will insert the implants into the jaw in a brief outpatient procedure, and over the course of the next few months, the implant will form a permanent link with the jaw. Implants are topped with an abutment that provides the base for the prosthetic.
An oral surgeon may place dental implants to support a crown, bridge or denture. As such, dental implants can be a treatment option in a variety of scenarios. Before having dental implants placed, patients must be thoroughly evaluated to be sure that they have adequate bone quality and are free from oral diseases that might compromise the dental implant.
Advantages of Dental Implants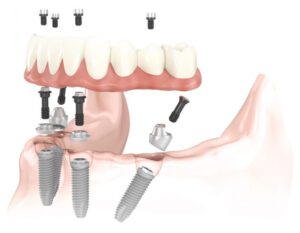 Unlike other devices designed to replace missing teeth, dental implants are structurally complete, replicating both the tooth's root and its crown. This quality gives dental implants an edge over the alternatives for many reasons. A dental implant has stability that would be unmatched by a bridge or denture. The jawbone will absorb in the absence of functional roots, and the implant acts like a root so it preserves the jawbone's structural integrity.
Dental implants also are easier to care for, and they are more functional for chewing and speech. Patients appreciate the convenience of this treatment option, which requires minimal adjustment to their normal routines.
The earliest iterations of dental implants required a two-stage treatment approach in which the implant was placed in one procedure, then uncovered at a later date so that the patient could be fitted with the prosthetic. Our surgeons will thoroughly examine various characteristics of the structures of your mouth, gathering data on bone quality and the nature of the soft tissues, to determine if any factors are present that may complicate the procedure. Patients who are candidates for immediate loading of their dental implants can leave the appointment with a fully restored smile.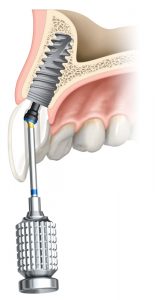 Dental implants can be a valuable long-term solution for tooth loss. Discuss this treatment option with one of our surgeons if you are in need of replacements for missing teeth.
Immediate Dental Implants
Using the most recent advances in dental implant technology, our surgeons are able to place immediate dental implants. These are dental implants that are placed at the same time as a tooth extraction. This technique further minimizes the number of surgical procedures and the time needed for healing.
If you would like to receive dental implants in Irving, Mesquite, and Ennis Texas, then call DFW Oral & Maxillofacial Surgery to schedule an appointment.